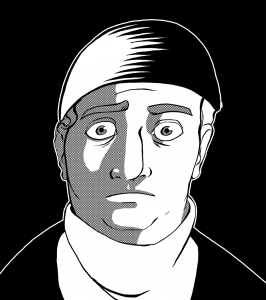 David John Mitchell is a freelance illustrator based in Chicago, Illinois.
He works on numerous ongoing projects, including The Blue Valkyrie (w. Emily Reisbeck) and of course Sidlings (w. Dee Emm Elms).
He has done diverse freelance work including children's book illustration, background paintings for animated films, posters for theater companies, and concept art for contemporary artists' project proposals.
He periodically writes theory & criticism about comic art. He graduated with a BFA from the School of the Art Institute of Chicago in 2012. During the day he works for a contemporary art gallery.